Have you ever heard about Glamping? Do you like nature, but you don't want to give up on the comfort of a nice hotel room? Then Glamping is for you! The word comes from the fusion of "Glamorous" and "Camping". Glamping is the new frontier of camping holidays but in a luxury key, in fact, rustic and exotic tents can hide a comfortable bedroom from which to admire the stars.
Glamping is also becoming popular in Italy among people who love nature and ecology, however, prefer to stay in a comfortable place, equipped with everything they need. This kind of sustainable tourism has a low environmental impact, moreover, the structures apply the principles of green architecture and the most efficient strategies for the recycling of rainwater.
10 Best Glamping Places in Italy
Glamping campsites have ready-made tents, with comfortable beds. The first glamping in Italy was realized in the Veneto region, however, these days it is possible to find luxury campings all over Italy. Some glamping accommodations function as resorts, others like Airbnb, and again others as hotels.
Tourists have a wide choice: it is possible to sleep among the olive trees on the Tuscan hills, or close to the beaches in Liguria, in the Marche region, and even on the island of Sardinia. Accommodation types also vary: campings can offer Mongolian yurts with a view of the mountains, geodomes, or wooden cabins. If you would like to spend your next holidays camping in Italy, this is not the usual "camping in Italy guide", however, you could find here some interesting places to spend a few nights under the Italian sky. Let's see which are the best camping sites in Italy to live a luxurious and unforgettable experience!
1. Caravan Park Sexten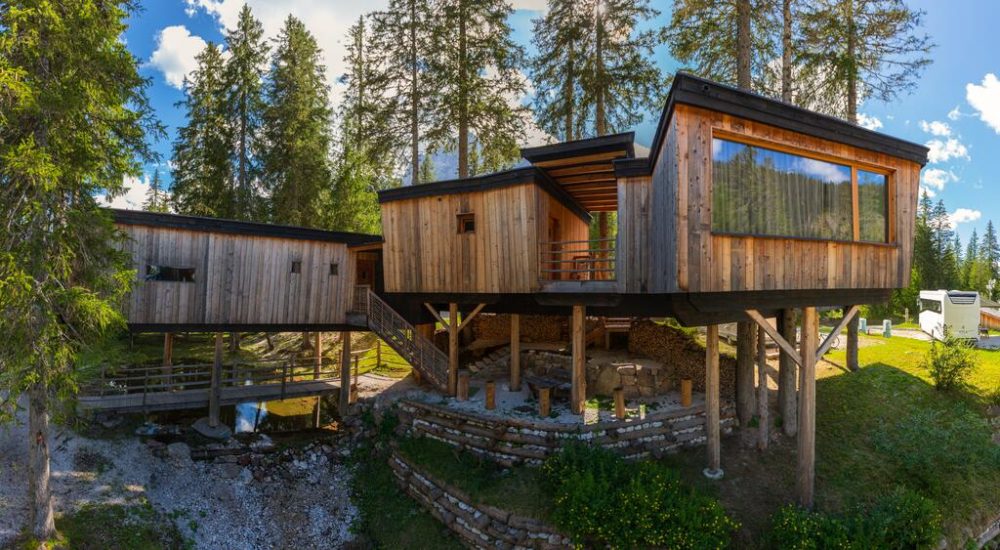 This 5 stars Camping in Alto Adige offers a unique view of the Dolomites. The stunning panoramic landscape changes with the passing of the seasons, taking guests from a white winter spell to a wonderful summer atmosphere. The Caravan Park Sexten in Sesto, in Val Pusteria, is a true paradise. The rooms are small apartments, wooden chalets, or tree houses.
2. Camping Olympia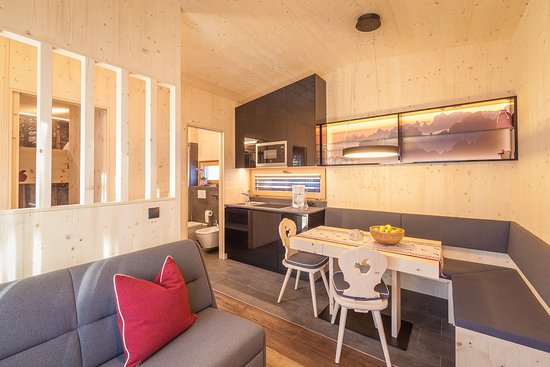 Remaining in Trentino, this glamping offers "alpine lodges" which are mini-apartments of 36 square meters and a terrace. They are made with stone pine, moreover, they are certified with the energy class A. Also, the furnishings are in South Tyrolean wood, while the mattresses are organic.
There is a barbecue under the stars or to sip excellent mulled wine. Like almost all glamping sites, Camping Olympia also has a swimming pool, and, for animal lovers, a close encounter with swans, geese, rabbits, and other inhabitants of the luxury campsite is possible.
3. Villaggio dei fiori – Flower village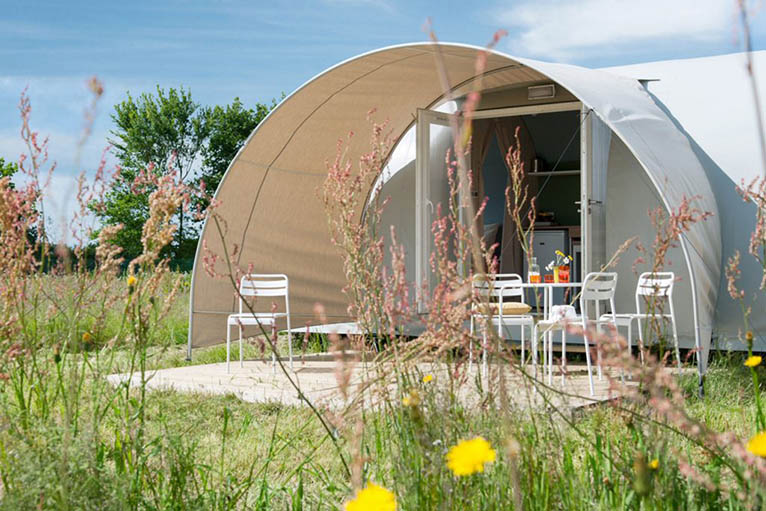 This glamping is located in the perfect position: between the sea and mountains. You can enjoy a swim in the sea or discover the hinterland. One of the best glamping sites in Liguria is the Villaggio dei Fiori, surrounded by a pleasant 3.5-hectare park.
The luxury accommodations of this glamping can satisfy all tastes, for instance, the KWest, mini-apartments for 4 people are lovely and furnished in a contemporary style.
4. Canonici di San Marco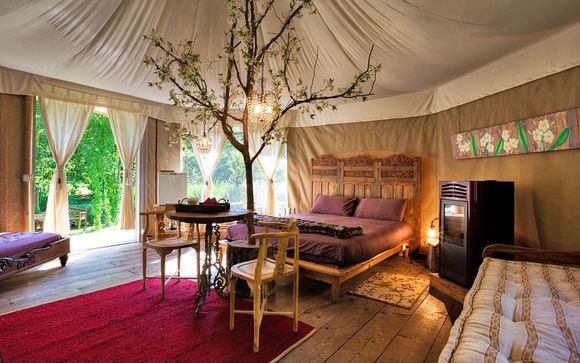 In Barchessa park in Veneto, Canonici di San Marco is a luxury campsite that offers finely furnished tents with refined Venetian style. It is an excellent place for visiting the nearest towns or the seaside. Inside, the Barchessa also houses a luxurious cellar. If you're in the Veneto region, consider visiting Venice, Verona, but also beaches in Veneto!
5. B&B La casa dei Nonni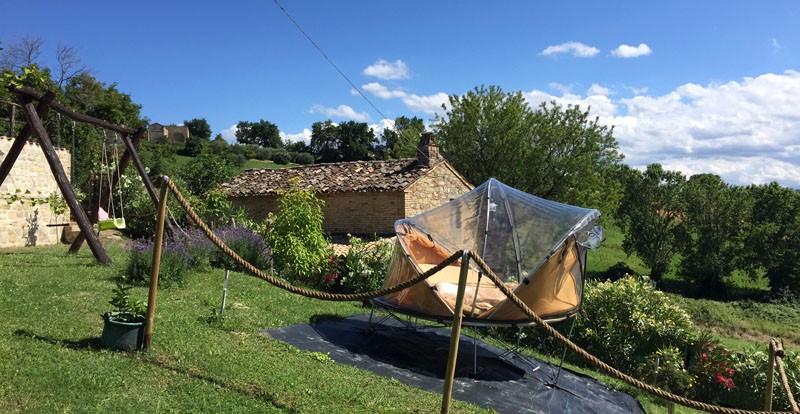 This delightful glamping in le Marche called La Casa dei Nonni (the grandparent's house) offers tourists transparent tents from which to admire the stars. This family-run b&b has tents similar to transparent bubbles for sleeping outdoors.
From here it is possible to venture to discover the naturalistic beauties of the Marche by choosing one of the many possible excursions in the surrounding area. If you're in the region, you can also explore the beaches of Le Marche.
6. Yurte Soul Shelter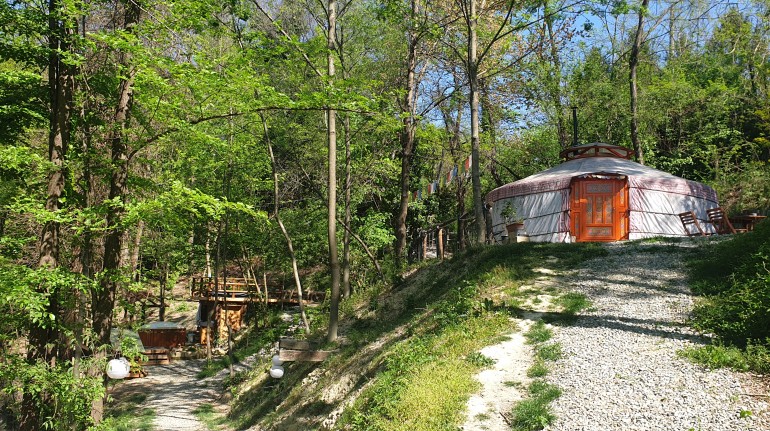 This glamping is among the best luxury campsites in Italy. Yurte Soul Shelter is located in Piedmont, on the Via Francigena. Your experience here will be characterized by a Mongolian yurt in the woods on the hills. The panoramic terrace overlooks the Alps and the city of Turin.
The tents are made of wood and natural fabrics, lit with LED lamps and heated with wood, moreover, the bathroom has a jacuzzi. The camping also offers the possibility to enjoy meditation, yoga, and other holistic disciplines.
7. Agricamping La Gallinella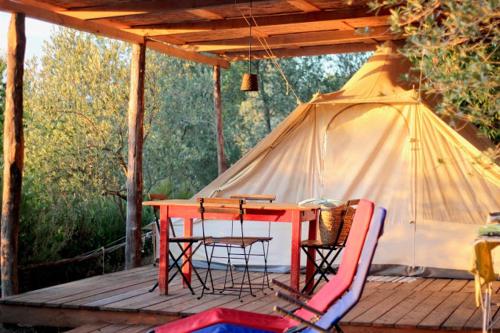 This is a beautiful campsite to enjoy the panoramic view of the Tuscan archipelago. The camping is located in Castagneto Carducci, in Tuscany which, in addition to a splendid garden and common areas with wi-fi connection, offers 8 lodge tents.
Some of them are equipped with a kitchen and personal bathroom. The luxury tents of La Gallinella are located inside a forest along the slope of the Segalari hill, in front of the sea. The main structure of the glamping is made of wood and uses energy from renewable sources.
8. Bubble Suite Virgo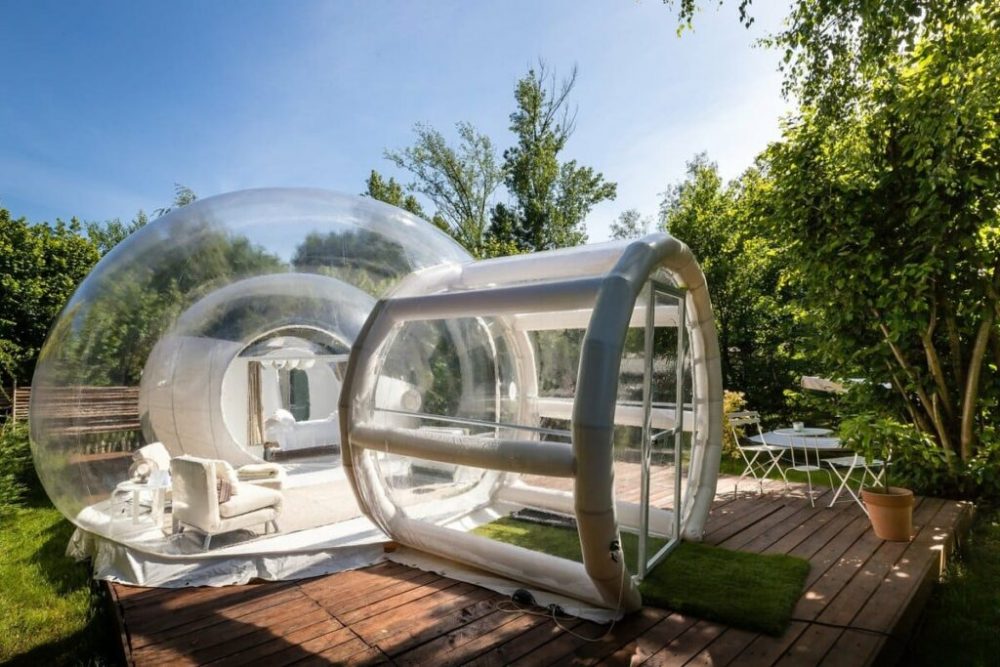 In this camping in Italy, you will learn how it feels like to sleep in a semi-transparent bubble. Guests can see all the movements of nature and its changing colors without sacrificing comfort. Inside this bubble glamping, you will find a canopy bed, a garden, and a whirlpool tub! The Bubble Suite Virgo is located in Tuscany, close to the sea.
9. Fattorie di Celli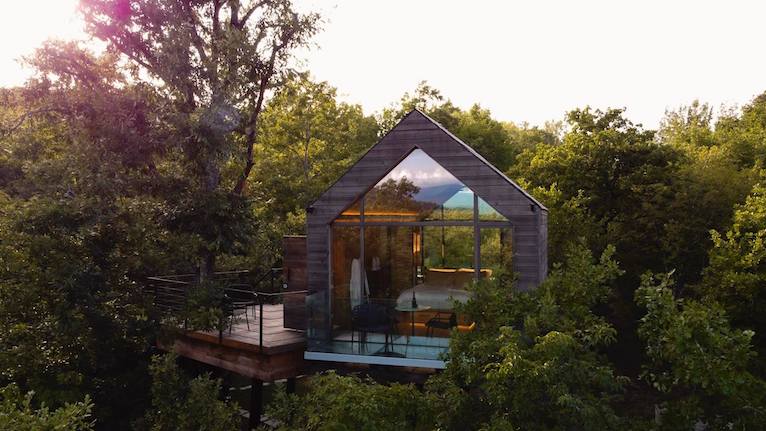 In Tuscany, there is another very special glamping accommodation. There is a treehouse at Fattorie di Celli. You will admire the green panorama over the National Park of the Casentinesi Forests and the Casentino valley.
The treehouse is equipped with a private bathroom, elegant wooden furniture, and a terrace, in addition, you can also find suites, independent farmhouses, and private villas with swimming pools. You can book the Fattorie di Celli also here.
10. Shauri Glamping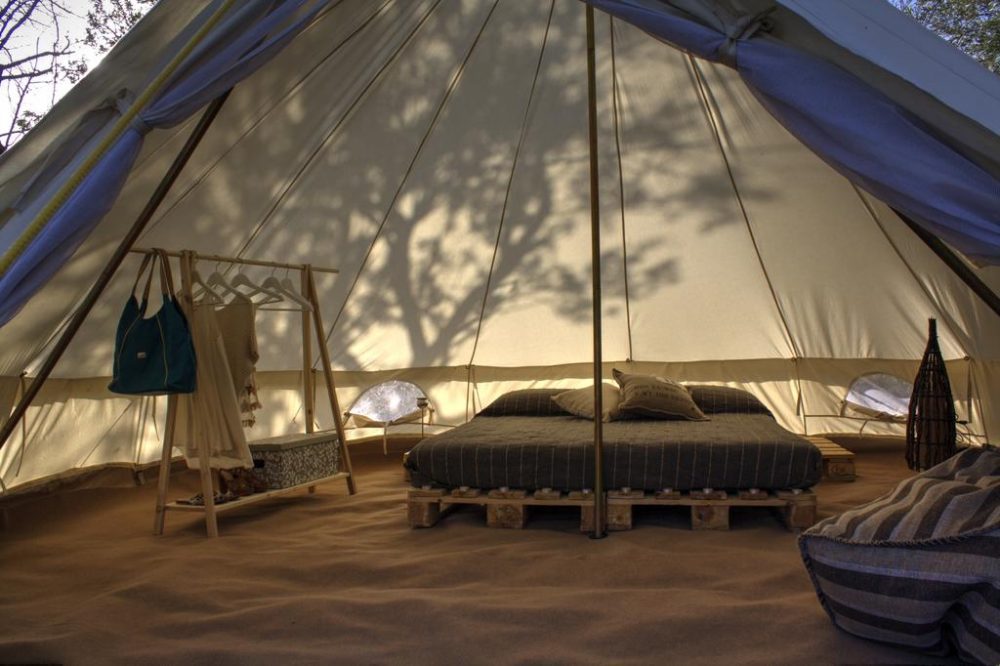 How about camping in Sicily? At Shauri Glamping campsite in Sicily, you will be surrounded by the scent of sage, wild fennel, and thyme. Guests have access to 20 sqm luxury tents featuring recycled and restored furnishings.
External bathrooms, hot water, barbecue area, shared kitchen, and luggage storage. Everything is close to the beautiful town of Noto and close to the sea.
---
Wrapping up the 10 best Glamping places in Italy
If you go camping you have to organize everything by yourself. You have to buy a tent, a sleeping bag, isothermal mats, and stoves. With glamping, you won't have to worry about anything, because everything will be ready. For sure this sustainable vacation is worth a try! Just mind that, as glamping is a new form of a luxury vacation, prices are much higher than those of normal camping.
Hopefully, this article about the 10 best glamping sites in Italy has provided you with some alternative ideas for your next holiday in Italy. You can also search online on Booking.com, Airbnb.com, or glampinghub.com to find your ideal accommodation.
Pin it: 10 best places for glamping in Italy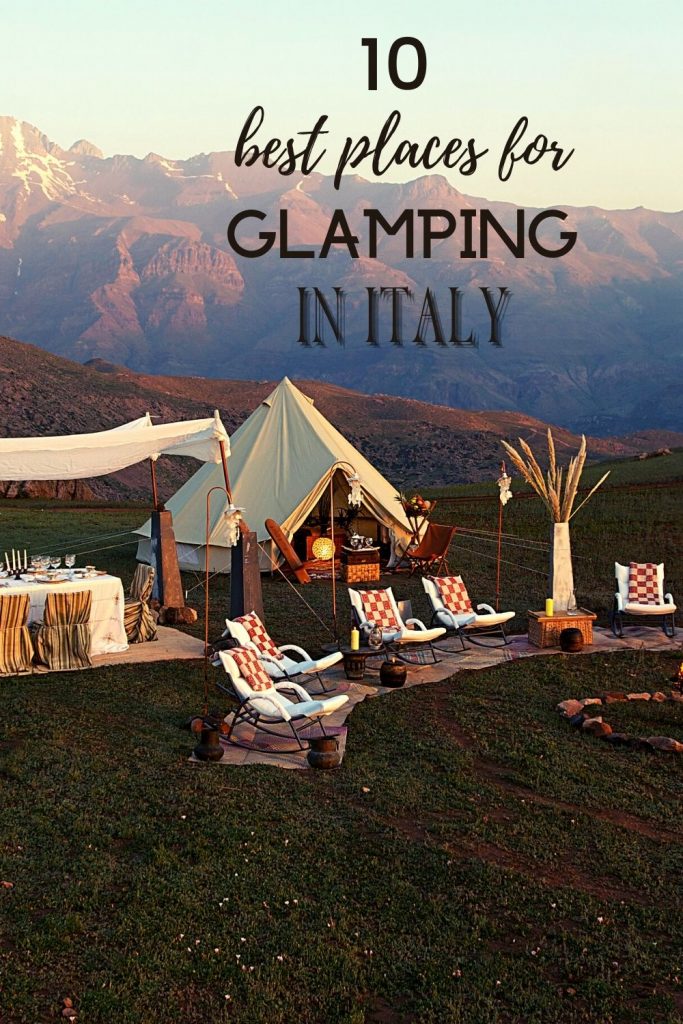 10 Best Glamping Places in Italy